It's the brand new 2022 Whip shape, but in our premium D/LAB construction that brings another level of performance and durability. The key feature of the new D/Lab construction is the new Reflex Memory Foam Shock Absorber on the deck of the board, making D/Lab boards feel incredibly more responsive on the water, even compared to SLS boards. The RMF also boasts key technical benefits including the magical property of memory. If you land hard from your freestyle tricks and put a small dent in the deck, it will over time gradually push the dent out to its original shape and your board will stay looking like new for longer. Additionally, the superior vibration damping of the RMF makes it feel as if you're riding on a cushion of air by reducing the high frequency chatter through the chop. This incredibly smooth ride inspires confidence in your riding when attacking the lip and landing airs because you know your board will absorb the shock and deliver top notch performance without sacrificing durability. The all-new Whip D/LAB is a great board for pushing the progression of all your freestyle tricks and one of our team's most highly regarded performance surfboards that is guaranteed to put you in all the right places on the wave from tight in the pocket to above the lip and into big open faced carves in small to medium waves. There's lots to love about this board - incredibly light, very durable and capable of excelling in waves and in the air. All you have to do is jump on board and reap the rewards!
High-performance small to medium wave / freestyle board
A high-performance surfboard for small to medium waves and strapless freestyle.
Snappy top turns
Due to its compact shape, top turns can be performed very snappy.
Incredible speed generation
With its special shape and special bottom outline, the speed generation of this board is incredible.
Reflex Memory Foam Shock Absorber
The RMF Shock Absorber delivers a super comfortable ride with a very direct connection to the board. Small dents will disappear overnight when the memory foam pushes back.
Innegra Shield
The Innegra shield makes the board very durable, without affecting the pure surfboard feel.
Carbon Beam
The Carbon Beam is the reason for strong, durable boards with great feedback for the rider.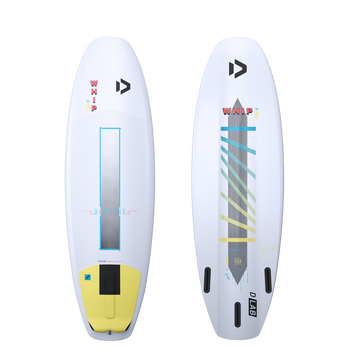 Freestyle
POP FOR AIRS / SPINNING
Freeride
EARLY PLANING / STABILITY
Medium Waves
SNAPPY TURNS / CREATING SPEED
SIZES
VOLUME
WEIGHT
FINSET
BOARD WEIGHT*