The Wam D/LAB is offered in our two most popular sizes in the same new shape as the WAM SLS, but in our revolutionary new D/LAB construction. D/LAB represents the masterpiece of everything we do here at Duotone and this new high end construction centres around the use of a new material - Reflex Memory Foam. Our new RMF Shock Absorber in combination with the Innegra Shield offers decisive technical advantages over the Cork Shock Absorber found in our SLS range. It has a memory; if you put a small heel dent in the board, the foam will push the dent out over time, giving you a lighter board that stays looking fresh for longer. D/LAB boards feel more responsive on the water thanks to the reduced weight and the remarkable damping effect that drastically reduces high frequency vibrations, giving these boards a smooth and forgiving feel to inspire your confidence when attacking the lip and landing huge airs. The Wam D/LAB is the ultimate classic surf style weapon for all conditions and the number one choice of our team riders in surf competitions, from big waves to small, it uses the most advanced technologies available to take you to the top step of the podium.
Contest board of choice
The choice of our World Champions in surf contests.
All-round high-performance board
A high-performance kite surf board for any conditions, the best allrounder in the range.
Controlled bottom turns
Very easy and controlled bottom turns, even when performed with loads of speed.
Reflex Memory Foam Shock Absorber
The RMF Shock Absorber delivers a super comfortable ride with a very direct connection to the board. Small dents will disappear overnight when the memory foam pushes back.
Innegra Shield
The Innegra shield makes the board very durable, without affecting the pure surfboard feel.
Carbon Beam
The Carbon Beam is the reason for strong, durable boards with great feedback for the rider.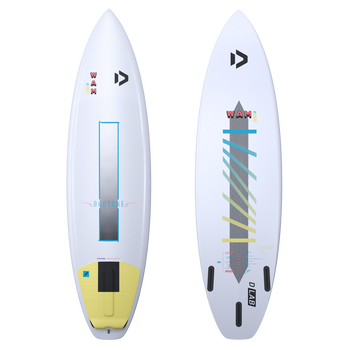 Freestyle
POP FOR AIRS / SPINNING
Freeride
EARLY PLANING / STABILITY
Medium Waves
SNAPPY TURNS / CREATING SPEED
SIZES
VOLUME
WEIGHT
FINSET
BOARD WEIGHT*