Strapless freestyle has exploded onto the scene of kiteboarding and now makes up a huge part of the market. Riders like Airton Cozzolino have turned it into an art form, and he's arguably made the discipline his own. Airton and Sky Solbach created the Voke SLS to ensure it stayed ahead of the rest of the pack and to ensure Airton remains at the top of the podium. The unique shape gives the board the ability to deliver explosive pop even in really choppy conditions, without catching the nose on take-off or landing. The flat rocker and relatively parallel outline make it incredibly fast and stable. The powerful wide tail provides the perfect springboard for explosive pop. In a discipline where every millimetre counts and the slightest mistake can prove incredibly costly, you need a board that will deliver every time. The Voke SLS is the board to choose for your strapless moves; it's forgiving yet packed with pop and performance. Whether you are learning your first trick or if you are Airton Cozzolino, the Voke SLS is the only weapon you need in your arsenal.
Strapless Freestyle machine
The one and only especially designed for strapless freestyle board.
Fast and stable
Due to it's shape and channels in the bottom, very fast and stable.
Explosive pop for airs
Offering very explosive pop for massive airs, making it easy to learn new tricks.
Innegra Shield
The Innegra Shield makes the board very durable, without affecting the pure surfboard feel.
Cork Shock Absorber 2.0
A cork deck makes the board durable with a lot of feedback for the rider.
Carbon Beam
The Carbon Beam is the reason for strong, durable boards with great feedback for the rider.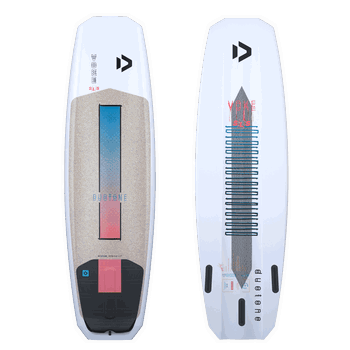 Freestyle
POP FOR AIRS / SPINNING
Freeride
EARLY PLANING / STABILITY
Medium Waves
SNAPPY TURNS / CREATING SPEED
SIZES
VOLUME
WEIGHT
FINSET
BOARD WEIGHT*