The Fish SLS has quickly become one of our best-selling boards - everyone who rides it falls in love. Designed by Duotone shaper Sky Solbach, the board is designed to maximise every session you have at the beach. Featuring a retro outline inspired by the classic Fish tail form of the '70s, but with a totally modern twist, it is sure to ignite your soul on those days when you might have stayed at home. The wide point is quite far forwards, and the rocker line is relatively flat; this gives the board the ability to deliver lots of speed and drive, even when the waves are weak. It also helps it to get going early, so the Fish SLS excels in not only soft waves, but also light winds too. The real key though, is the rail and tail shape and the channels underneath; these allow the board to be really dynamic on the wave, and you can easily get vertical on the face. The snap off the top is always predictable, but very much on the side of aggressive; the harder you ride the board, the more it delivers. At its heart though, it's an incredibly easy board to ride; while some shapes require you to tune your riding style, everyone feels at home on the Fish SLS almost instantly. All our team riders have a Fish in the quiver, and so should you; from 1 foot to 6 foot, the Fish SLS is the most fun you can have in the water.
Small wave slayer
The perfect board for small waves and when the conditions aren't perfect!
Carries speed with little kite power
Due to its early planning and ability to keep speed, only little kite power is needed and a pure surf feeling can be enjoyed.
Great all-rounder with easy performance
A really easy to ride board, suitable for multiple conditions!
Innegra Shield
The Innegra Shield makes the board very durable, without affecting the pure surfboard feel.
Cork Shock Absorber 2.0
A cork deck makes the board durable with a lot of feedback for the rider.
Carbon Beam
The Carbon Beam is the reason for strong, durable boards with great feedback for the rider.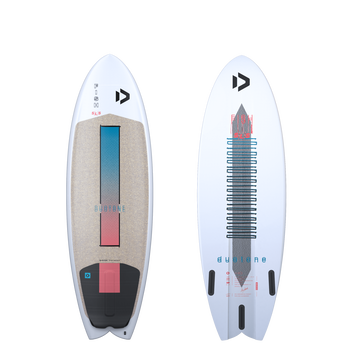 Freestyle
POP FOR AIRS / SPINNING
Freeride
EARLY PLANING / STABILITY
Medium Waves
SNAPPY TURNS / CREATING SPEED
SIZES
VOLUME
WEIGHT
FINSET
BOARD WEIGHT*