SUPER HERO is THE ultimate wave sail which is made to perform optimally in all wave conditions around the globe. The unrivaled balanced sail is the personal favorite of PWA Wave triple world champion Victor Fernandez and is a real World Cup asset that is designed specifically for wave usage. Thanks to the absolutely neutral and perfectly balanced draft position, its handling characteristics are unrivaled and it remains stable and highly controlled in every situation. The SUPER HERO feels like a three-batten design combined with the stability of a five-batten one. The specially developed profile fills out very efficiently and produces high propulsion even when underpowered, which is why it's suitable for almost all riders, regardless of weight.

The SUPER HERO's consistent evolution makes it an even better World Cup sail with an extremely wide range of use in the wave. It continues to deliver great high-end performance even in gusty and/or nuking conditions such as the Canary Islands or South Africa, remaining under perfect control with high winds and during extremely overpowered jumps. And yet it also boasts powerful acceleration capabilities at the lower wind limit, alongside an adjustable power/drive, which comes in handy when sailing in down-the-line spots like Maui or Mauritius.
To achieve this extraordinary overall package, designer Kai Hopf is tasked with combining numerous individual designs into a single concept. This includes the BATTEN-FREE CENTRE, additional MINI BATTENS, the HOLLOW LOWER LEECH and our unique RADIAL LOAD SWOOSH running from the clew. Only then can this four-batten wave sail offer a wind range whose breadth is without rival.
In terms of handling, the superiority of the SUPER HERO is beyond doubt thanks to its low weight. The batten rotation is beautifully soft, even with minimal outhaul tension. The top works very actively and thus supports the propulsion. Therefore you can confidently choose a sail size smaller than with many other wave sails.

SUPER HERO HD
Although generally sharing the same structure, the SUPER HERO HD dispenses with monofilm even in the window panel.
XPLY PLUS
Laminate (100/150 micron) with the lowest stretch and best UV- and puncture resistance on the market
TRI PLY
Tri Ply foot panel (150 micron): additional 3rd thread direction increases rip-stop ability by 30%
HOLLOW LOWER LEECH
Hollow Lower Leech with additional MINI BATTEN stabilizes the profile right above the boom and prevents leech flattering
RADIAL LOAD SWOOSH
Radial Load Swoosh at the clew improves the stability and thus extends the wind range
BATTEN FREE CENTER
As reactive as a 3-batten sail in drift & go conditions yet super stable in overpowered conditions
iBUMPER 2.0
The most advanced and effective molded mast protector
Epoxy Battens
Unbreakable Epoxy Battens
iROCKET 2.0
Factory calibrated individual batten tensions using a torque wrench
AVAILABLE IN HD
Also available in a monofilm-free HD-construction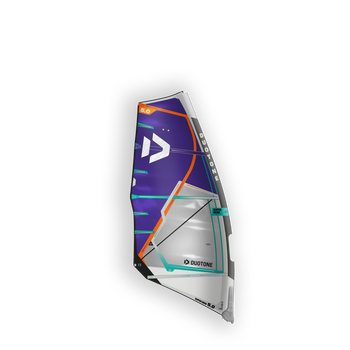 Draft & Feeling
CENTERED / SOFT
Range Of Use
DOWN THE LINE
Freestyle Ability
NEW SCHOOL
SIZE
BOOM MAX (CM)
VTS TAIL TENSION
LUFF MAX (CM)
VARIO/FIX TOP
BATTENS
WEIGHT (KG)
MAST TYPE (BEST/ALT.)
MAST GEO (BEST/ALT.)
MAST LENGTH (BEST/ALT.)
Any comments or questions? Here you'll find first hand R&D / rider Information.
The more info you provide, the more specific the advice/help will be. Please let us know:
Your skill level

Your body weight and size

Mast(s) you plan on using with the sail

Board(s) you are using

Conditions/spots you are sailing at
Please note: To help as many people as possible follow the thread, the forum language is English only.