The "E" stands for "electrifying", "effective" and "easy to control". E_TYPEs are exactly the kind of athletic freeride sails which make windsurfing so fascinating and uncomplicated: easy to rig up, set off and start into motion without any need for pumping. All E_TYPEs combine constantly accessible acceleration power with the playful handling of a no-cam sail. This is pure windsurfing, with lots of propulsion, speed AND special durability for experienced and athletic manoeuvres.

Versatility is the greatest strength of the E_TYPE. The harmonious performance, easy handling and highly responsive riding feel create a great deal of confidence, increase control and make windsurfing a breeze. And it goes like the clappers as well – the E_TYPE is definitely our fastest DUOTONE no-cam sail.

The E_TYPE in the NO COMPROMISE DESIGN has been developed to ensure top-end performance as well as a real boost when accelerating and planing. The stable draft position right at the front makes rig control much easier and the PROGRESSIVE BATTEN CONFIGURATION (number of battens depending on size) reduces weight. As a result, the no-cam E_TYPE is the perfect freeride sail for all water types and combines handling and easier rigging-up with vigorous performance and top speed.

All E_TYPE sails are also available in the monofilm-free HD design. However, the extremely hard wearing mix of materials has its price, which we will of course make clear.
HOLLOW LOWER LEECH
Enables to reduce the bottom length without loosing low end power
VTS DOWNHAUL 2.0
Optional QUICK RIGGING PATCH allows "to the spot" downhaul trimming without even looking to the top (patent pending)
NO COMPROMISE DESIGN
Guarantees an ideal mix of maximum power and forward pull without loosing stability / wind-range or becoming super physical
LUFF LIFT PANEL
Super early planing and acceleration through increased profile in the upper luff
PROGRESSIVE BATTEN CONFIGURATION
Batten amount depending on sail size and thus perfectly matching the range of use
MINIMUM MAST CONCEPT
Two masts cover all sail sizes
AVAILABLE IN HD
Also available in a monofilm-free HD-construction
iROCKET 2.0
Factory calibrated individual batten tensions using a torque wrench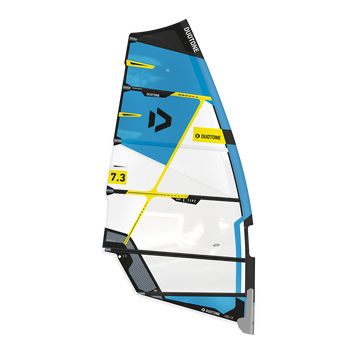 Wind Range
STABILITY / V-MAX
Acceleration
INSTANT SPEED
Handling
CONTROL DURING MANOEUVRES
Rec. Skill Level
EASY TO (WATER) START
SIZES
BOOM MAX (CM)
VTS TAIL TENSION
LUFF MAX (CM)
VARIO TOP
BATTENS
CAMBER
WEIGHT (KG)
MAST TYPE (BEST/ALT.)
MAST GEO (BEST/ALT.)
MAST LENGTH (BEST/ALT.)