THE BRAND NEW ALFA FEATURES AN ULTRA-MODERN 2.5-BATTEN DESIGN (3.0 M² AND ABOVE) THAT OFFERS EXCELLENT PERFORMANCE FOR A WIDE RANGE OF INDIVIDUALS. WE WORKED CLOSELY WITH THE MOST WELL-KNOWN SURFING SCHOOLS AND ASSOCIATIONS, WHOSE KNOWLEDGE AND EXPERIENCE WERE SIGNIFICANT INFLUENCES ON THE CONCEPT.
The ALFA is an easy planing sail that will accompany any beginner or dedicated improver for a very long time. It's super easy to get out of the water and very easy to control on all courses as well as during manoeuvres. In sub planing conditions it really gives the rider something to hold on to, offering stability that will come in handy on choppy waters. Once planing, the sail stays very well balanced. The wind pressure can be gradually transformed into speed, so that the rider is always in full control. With the use of Dacron and vinyl, the ALFA is virtually indestructible, making it ideal for use in windsurfing schools. Thanks to the elastic nature of the Dacron material and its unique shape, the ALFA loads up very gently and develops a full profile. As a result, it generates powerful propulsion and has excellent planing characteristics. Moreover, the draft position remains stable even when far into the planing range.
DACRON VINYL CONSTRUCTION
Ideal for surf schools as it makes the DRIVE CLOTH virtually indestructible
DACRON VINYL CONSTRUCTION
Perfect for learning at the elasticity gives the rider something to hold on to
DACRON VINYL CONSTRUCTION
Perfect for learning at the elasticity makes the sail to load up very gently
PROGRESSIVE BATTEN CONFIGURATION
Batten amount depending on sail size and thus perfectly matching the range of use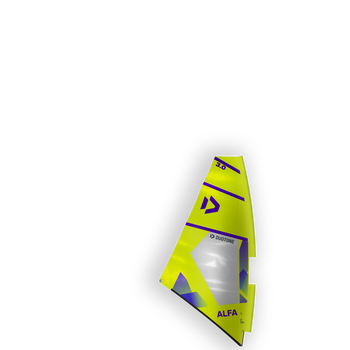 Wave
DOWN THE LINE / BALANCED
Freeride
PLANING POWER / EASY HANDLING
Race
MAX. ACCELERATION / V-MAX
Foil
BALANCED FLIGHT BEHAVIOUR
SIZE
BOOM MAX (CM)
LUFF MAX (CM)
VARIO/FIX TOP
BATTENS
MAST TYPE (BEST/ALT.)
MAST GEO (BEST/ALT.)
MAST LENGTH (BEST/ALT.)
WHAT'S NEW
VISUAL FACELIFT

TECHNICALLY UNCHANGED
WANNA EXTEND YOUR 2 YEAR WARRANTY BY ANOTHER 3 YEARS?
THIS PRODUCT IS QUALIFIED FOR AN EXTENDED WARRANTY OF 5 YEARS. TO SECURE THE EXTENDED CLAIMS PLEASE REGISTER WITHIN 30 DAYS.
OTHERWISE JUST THE LEGAL WARRANTY PERIOD CAN BE GRANTED!
PLEASE REGISTER HERE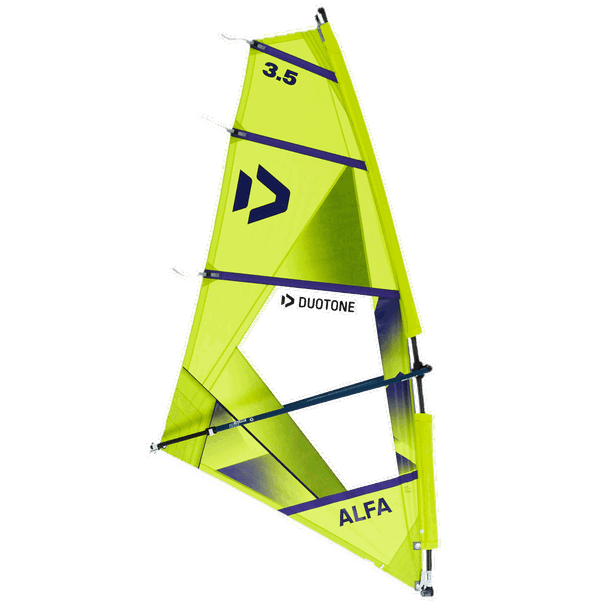 DURATECH FOOT
Long-term guarantee for the sail foot. When starting off on the water or catching up, the foot of the sail is constantly dragged over the nonslip coating, particularly for wide boards. With the exclusive DURATECH FOOT, the seams are completely protected within a large plastic channel so that the surface cannot chafe against seams and material.
2+3 YEAR WARRANTY
Guaranteed quality – no other brand offers anything close to it. Keeping weight to a minimum is a great idea. But if necessary reinforcements are reduced too much, the product's service life will automatically get shorter. DUOTONE has struck the perfect balance between weight and durability. To prove our dedication to ensuring durability and unique quality, almost all of our sails come with a 2+3 year warranty (excluding monofilm). To secure warranty claims fully, please remember to register at www.duotonesports.com straight after your purchase. Otherwise, only statutory warranty claims will be accepted. This is valid only for original owners.
TT TOP
Improved sail control at higher winds. Designer Kai Hopf originally designed the TT TOP for the WARP. The reduced, concave shape improves tension conditions for a more effective, three-dimensional top twist. This means the top twists not only horizontally, but also vertically under strong winds. By completely neutralising gusts of wind, the rig is kept steady in the rider's hands, and thus works in a much larger range of winds.
DURATECH FOOT
Long-term guarantee for the sail foot. When starting off on the water or catching up, the foot of the sail is constantly dragged over the nonslip coating, particularly for wide boards. With the exclusive DURATECH FOOT, the seams are completely protected within a large plastic channel so that the surface cannot chafe against seams and material.
2+3 YEAR WARRANTY
Guaranteed quality – no other brand offers anything close to it. Keeping weight to a minimum is a great idea. But if necessary reinforcements are reduced too much, the product's service life will automatically get shorter. DUOTONE has struck the perfect balance between weight and durability. To prove our dedication to ensuring durability and unique quality, almost all of our sails come with a 2+3 year warranty (excluding monofilm). To secure warranty claims fully, please remember to register at www.duotonesports.com straight after your purchase. Otherwise, only statutory warranty claims will be accepted. This is valid only for original owners.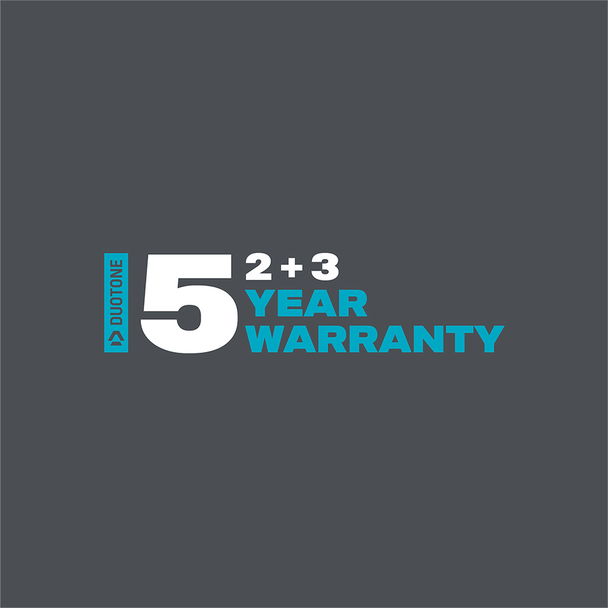 »THE ALFA IS A SPECIALISED SCHOOLING SAIL WHICH MAKES THE FIRST STEPS AS EASY AS POSSIBLE YET IS DURABLE ENOUGH TO EVEN WITHSTAND THE HEAVY DAY-TO-DAY USE IN SURF CENTRES.«
KNOWLEDGE BASE SAILS
At DUOTONE we use a Medium Constant Curve for our masts (our bend percentages range between 61-63 bottom and 75-77 top depending on model and length). As this curve sits right in the middle within Constant Curve masts it offers the biggest compatibility of any bend curve. This makes our masts and sails the most compatible on the market.
HERE IS HOW GOOD OTHER BRAND MASTS WORK WITH OUR SAILS AND VICE VERSA:
Challenger Sails, Ezzy, GA (2017 on), Goya, Gun Sails, KA Sails, Loft Sails, Naish Sails, NeilPryde (RDM masts), RRD, S2Maui, Sailloft, Sailworks, Severne (RDM masts, 2014 on)
>> 80-90% (depending on model and size)
 

Hot Sails, NeilPryde (SDM masts), Point7, Severne (SDM masts, 2014 on), Simmer Style, Chinook
>> 70-80% (depending on model and size)
 

Avanti, Gaastra (until 2016), Maui Sails, Severne (until 2013), Vandal
>> Not compatible
Most customers change their individual sail and mast sizes according to demand and therefore end up owning a quiver with different brands. When building up your personal sail quiver, you should try to combine sails that have a similar feel and behavior. The one decisive factor defining how similar or different one sail feels/behaves to another is the position of the draft, in both levels, vertical (high><low) and horizontal (forward><back). 
Freeride and slalom sails from the different brands nowadays feel quite similar since at least the horizontal draft position is forward oriented on nearly every sail today.
 

The biggest difference though you find with wave sails.
Basically there are 2 different kind of wave sails:
Draft centered (= balanced pull on both hands) and low (to keep the sail controllable)
These sails are the ideal companion for multi-fin boards. Since the balanced pull on both hands makes them super neutral in your hands they shine especially in real down the line conditions. On the other hand they feel very different to modern freeride and slalom sails (which are very forward pulling). So if you are using such draft back/low wave sails only very occasionally as your high wind flat water sail you might be better off with the second type of wave sails. 
 

Draft forward and up (to still generate enough low end power)
These sails work on both single- and multi-fin boards. With the forward pulling feeling they are more exiting/direct to sail and have a very similar feeling to modern freeride and slalom sails. In addition they are the ideal choice for side-onshore jumping conditions as the higher and forward oriented draft helps/accelerates rotations in the air (especially forward loops).
So when mixing your quiver with different sails/brands you should try to combine sails which have a similar draft position and thus feeling and behavior.
Just follow these guidelines:
You are looking for a direct feeling wave sail especially for jumping. Or you need a smaller sail to complete your freeride or slalom sails.  Try to get draft forward/up wave sails. Typical examples are:
Duotone Super_Star / Duotone Duke / NP Zone / NP Combat (until 2018) / NP Atlas / Point7 Salt / Point7 Spy / Severne S1 / Severne Blade
 

You are looking for a wave sail which is super neutral for down the line riding and very forgiving in nuking gusty conditions. Try to get draft centered/low wave sails. Typical examples are:
Duotone Super_Hero / GA IQ / GA Manic / Goya Fringe / Goya Banzai / NP Combat (2019 on) / Simmer Tricera / Simmer Blacktip / Simmer Icon
 

Try to avoid combining draft forward/up- with draft centered/low sails in your quiver as these feel and behave extremely different. 
THE MAST - THE MOST UNDERESTIMATED PART OF YOUR RIG
The importance of the mast is usually extremely underrated. In fact, the mast is comparable to the transmission of a car. Or in other words, a Ferrari with only one gear is not very fast, only the correct transmission maximizes the potential of the engine into v-max. 
When you compress a mast using downhaul tension every mast has a specific bend curve. This bend curve has to match with the luff curve of your sail in order to work in conjunction with the sail. On the other hand if the mast has a different bend curve than the luff curve both parts work against each other. Therefore it is utmost important to buy the right mast for your sail.
To say it loud and clear: a wrong mast will destroy min. 30% of your sails performance or in other words will turn a winner into a shit sail!
The only other thing you can do to kill your sails performance is wrong/insufficient downhaul tension.
In general, at Duotone, we modify our mast curves just very, very moderately, if at all, from one year to the next. There are 2 reasons for this:
1. we try to keep our masts compatible with our sails for as long as possible to avoid forcing customers to always buy a new mast with their new sail. 
2. our sail designer Kai is always trying to reduce the "design variables" as much as possible. This way he can constantly improve the sails performance. And since the mast curves have a tremendous impact on the sail, he is not very eager to change the curves.
Even on our high-performance Platinum mast series, the bend curves are only slightly adjusted from year to year. All other mast series generally remain completely unchanged. This means that as long as you are not a Word Cup pro, you can use 10 year old or even older Duotone masts (or from our previous brand) in our sails.
1. MAST STIFFNESS
Your rig is like a bird's wing, it is not a static but a dynamic object. Everything above your boom is under permanent movement to react/adapt to changing wind conditions (wind strength and direction) as well as to water movement. 
There is a simple rule across all masts: the longer the mast the stiffer it is, or rather, the stiffer it must be. This is simply because the larger the sail surface becomes, the more support it needs from the mast. In a way the mast is the backbone of your rig.
What happens if a mast is too stiff or too soft for the sail (size)?
1. mast too stiff: the rig becomes super hard to control (especially when powered up) and uncomfortable (exhausting) to sail as the mast doesn't flex sufficiently e.g. when a gust hits your sail.
2. mast too soft: a mast that is too soft reduces the profile in the sail (because it already bends too much when downhauling the sail). When sailing It also bends too much with every gust. Both factors reduce the performance of your sail.
Your body weight also plays a role here. On the same sail a 60 kg lightweight will want to use a slightly softer mast than a 90 kg heavyweight sailor.
2. MAST DIAMETER (RDM VS. SDM)
There are two diameters existing:
1. SDM (Standard Diameter Mast) with 48,5 mm inside diameter at the bottom
2. RDM (Reduced Diameter Mast) with 32-33 mm inside diameter at the bottom
RDM masts make sense only up to lengths of around 430 cm, as they have a rather soft flex behaviour due to their smaller cross section. Therefore, they are primarily suitable for Wave/Freestyle sails with the additional advantage that they are easier to grip during manoeuvres.
On the other hand, larger, mostly performance-oriented sails require stiffer masts with a "more direct" flex. This characteristic requires a larger mast cross section in order to achieve the required stiffness. 
3. CARBON CONTENT >< WEIGHT >< PRICE >< PERFORMANCE
Compared to glass fiber, carbon is
a much stiffer fiber:
Due to this higher stiffness, less material/wall-thickness is requires, which ultimately results in a much lighter mast. The weight of the mast has an significant influence on how light the whole rig feels in your hands. No joke compared to a 50% carbon mast with a 100% carbon mast your rig will feel as if it would be 1 square meter smaller! And this is something everyone from beginner to World Cup pro will immediately feel and appreciate. 
 

a much faster reacting (responsing) fiber:
When a gust hits your rig it twists off to absorb the sudden energy surge (instead of pulling you into a catapult). In order to create forward movement the mast has to reflex back. The faster this happens the faster the rig is ready for the next gust/impact.
 

a much more expensive fiber:
Unfortunately carbon fiber is 10-20 times more expensive than glass. That means the higher the carbon content, the more expensive the mast.
DESIGN PHYSICS OF MODERN WINDSURF SAILS
Especially in the top and towards the clew weight is key cause due to the leverage-effect you feel every gram a multiple times in your hands. Because of the quite limited amount of materials available though the only way to reduce the sail weight is by reducing the thickness of the materials. The secret is finding the sweet spot of lowest possible weight but without sacrificing durability and longevity/sustainability.
Modern Windsurf sails consist of the following raw materials:
(1) MAST SLEEVE MATERIAL
Rough woven Polyester fabric. The rough structure gives it a maximum abrasion resistance against impact from the outside (e.g. board contact or contact during rigging) as well as from the inside (through the mast).
(2) MONOFILM
Plastic film made out of Polyester available in clear- or colored versions. This hard plastic film has a very low stretch (for maximum performance) and doesn't absorb any water (dry weight = wet weight). Attention: monofilm isn't very UV-resistant. Therefore keep your sail out of direct sun light when not sailing. Also monofilm isn't very abrasion resistant.
(3) XPLY LAMINATE
2 thin layers of monofilm and a pattern of threads (out of Polyester or Dyneema) are glued together creating a sandwich laminate. The additional threads are supposed to function as a rip stop in case the film gets punctured (e.g. falling into the sail with your harness hook first). When using the same total thickness as monofilm (= same low stretch, same UV- and puncture-resistance) XPly is 30% heavier due to the additional adhesive (and threads).
(4) DACRON
Before discovering monofilm original Windsurf sails were made entirely out of Dacron. This woven fabric offers a very good abrasion resistance but is very stretchy plus elongates (means it grows with each use). Therefore nowadays mainly used for reinforcement patches to protect the monofilm and XPly panels in the high abrasion areas of your sail (foot, clew, top and outside of batten pockets).
(5) INSIGNIA
Dacron material with a self-adhesive side. Therefore it doesn't require seams when put on top of the film plus prevents water from getting in-between the film and the abrasion patches (= lower wet weight).
Wanna know more details or looking for DUOTONE sail spare parts - here you go
BATTENS
Made out of glass- or carbon fiber either as solid version with smaller diameter (= stronger) or tube version with larger diameter (= stiffer). For a better understanding the mast is like the backbone of your sail whereas the battens act like the ribs of your sail keeping the profile in place. Same as the mast also the battens have individual profiles (thinner tip, thicker tail) matching the profile of the sail.
Simple rule: the more battens the more stable (= faster + bigger wind range) the sail becomes. But also the heavier the sail becomes as battens account for approx. 40% of the sails total weight. Therefore handling/wave-oriented sails usually come with 4-5 battens whereas performance oriented sails usually come with 6-7 battens.
As a second guideline smaller sail sizes require fewer battens than larger sizes.
CAMBERS
Usually there is a certain gap between the batten tip and the mast. This is necessary so that the batten can shift from one side of the mast to the other when sailing back and forth. A camber can be seen as a kind of connection between the batten tip and the mast filling out this gap.
This leads to much better aerodynamics as the cam enables a smooth transition between the thick mast into the thin sail body. In addition since the cam is braced against the mast the batten stabilises the sails profile much more effectively (sail becomes more stable = faster).
The downside is that the rotation from one side to the other becomes much harder. Plus the cambers need a certain space which requires a wider mast sleeve. This makes (water)starting much harder as the wider mast sleeve absorbs more water. Therefore cambers are mainly used on performance Freeride or high-performance Slalom sails.
FOOT ROACH
A sail with a lot of foot roach reduces the gap between the sail and the board (close the gap) which makes it more efficient/performance-oriented.
On the other hand a high cut foot with less foot roach improves the handling especially for all kind of ducking moves. 
PROFILE DEPTH
A deeper sail profile gives you more power and performance in general.
A flatter profile on the other hand improves the handling as the distance of the flat profile is much shorter when shifting from one side to the other.
BOOM- AND LUFF LENGTH
Together with the sail size all dimensions increase. Means in general the larger the sail the longer the boom- and luff lengths become.
Simple rule: a heavier sailor needs to take a larger sail size to get planning in the same wind compared to a lightweight.
Rough indication for the biggest sail size: to get going in the same wind a 10 kg heavier guy requires a 1 sqm larger sail.
Max. sail size vs. body weight:
The larger the sail, the heavier and the more "sluggish" the rig becomes. In addition, larger sails require stiffer masts to keep the surface "in shape". A heavy rider provides more "counter-pressure" to the sail area and mast stiffness than a lightweight. That's why the sail tends to pull you out of balance, gets difficult to control during maneuvers and becomes inefficient to pump when it is too large for your body weight.
In relation to your body weight, there is a maximum sail size that should not be exceeded.
Here are some guidelines:
>> 9.0+: min. body weight 95kg
>> 8.0-8.3: min. body weight 80kg
>> 7.0-7.3: min. body weight 70kg
As a general rule rather use a slightly too small than a too big sail.
First you should define the biggest and smallest sail size you will need to cover all wind speeds you wanna sail in. This mainly depends on your body weight (see above).
Let's take an "average" 75 kg sailor and let's assume this guy wants to sail in "any kind" of wind.
- The biggest sail size this guy would need is something like a 7.3. With a capable 100-120 litre Freeride board this size would get him planning in approx. 8-10 knots.
- His smallest size would then be a 3.7. On a 70-80 litre (Free)Wave board our guy should be fine up to approx. 40-45 knots.
Second thing is to define the sizes in-between. Important to know: the wind pressure (which you feel in your hands) raises in square in relation to the wind speed. Therefore the smaller the sail size the smaller the size increments need to become. For large sails, the gap can be up to 1.5 sqm, while for very small sails it can go down to 0.3 sqm.
Taking all of this into account a typical quiver for our 75 kg guy could look as following:
7.3 - 6.0 - 5.3 - 4.7 - 4.2 - 3.7
Taking the "10 kg = 1 sqm" rule (see previous point) in consideration a typical quiver for an 85 kg guy could then be:
8.3 - 7.0 - 6.0 - 5-0 - 4.5 - 4.0
You have bought all parts from the same brand but if you rig according to the specs printed on the sail it still feels somehow ackward.
Unfortunately every product has tolerances in production. And the bigger a product becomes the bigger the tolerances become. Therefore tolerances on a smartphone are hardly visible whereas tolerances on Windsurf equipment are non-deniable.
- The tolerances on the mast length are approx. +-5 mm.
- The tolerances on mast extensions and booms are approx. +-3 mm.
Furthermore, there is unfortunately still no standard among brands on how to measure the length of booms and extensions.
- On a sail with all its panels the tolerances over the whole luff length can add up to another +-5-10 mm.
In addition, even with monofilm sails the luff stretches in the first 3 times you use the sail due to the massive downhaul tension.
Adding up all these tolerances you start realising why the absolute numbers printed on your sail (especially the luff length) can only be an indication to adjust your mast extension- and boom lengths.
To achieve the correct downhaul tension please make sure to only rely on the VTS (Visual Trim System) markers in the top of every DUOTONE sail.
Always keep in mind there are exactly 2 things either of them potentially killing at least 30% of your sails performance:
1. The wrong mast (see first point under MAST BASICS on every mast page)
2. Wrong/insufficient downhaul tension
There are 2 things which will destroy up to 60% of your sails' performance:
1. A wrong mast with a bend-curve which doesn't match with the luff curve of your sail
2. A wrong timmed sail
For how to rig and fine-tune your sail please see our YouTube channel.
Always rig according to the rigging instructions - see here.
 

After use in salt water, rinse or spray down with fresh water. At the very least at the end of a vacation or trip.
 

When possible only roll up the sail once it has dried. Never store a rolled up sail for any extended periods of time unless it is dry.
 

To dry, release the tension from the sail; if possible do not set out to dry in direct sunlight, and do not dry it by letting it flutter in the wind.
 

Always roll the sail from top or bottom, keeping all battens under full tension in their sleeves!
 

Use only recommended mast components for your sail in order to attain optimum performance.
 

Do not wash your sail with harsh detergents or chemicals. Water and a mild soap are fine.
 

Repair tears and holes in monofilm sails immediately to prevent further tearing. If proper repair is impossible (and this includes using the DUOTONE monofilm repair kit), at least seal the tear with normal tape or a sticker.
 

The sails durability is directly related to
a. the frequency of use
b. sail care and
c. UV-radiation (especially in monofilm sails)
In places with high UV-radiation, store the sail in the shade, otherwise de-rig it.
DUOTONE DESIGN PHILOSOPHIES - THINK DIFFERENT
With the information overkill nowadays no one has the time to read manuals anymore. Therefore we try hard to design our products as intuitive as possilbe to get you onto the water faster than with any other product. No wonder DUOTONE is called the feature world champ.
Here are some examples:
VTS 2.0
The first "guess-free" visual trimming guide to clearly show the correct downhaul tension. Version 2.0 comes with a window in the protector to mark your individual trim once you have found your ideal setting. 
 

HTS 2.0
By marking the draft position on the sail you immediately know where to position your harness lines. 
 

INDIVIDUAL BOOM LENGTH INDICATION
The length of the boom changes with the angle to the mast. Therefore if you move your boom up or down you need to change the length of your boom. As the only brand we take that in consideration by printing 3 different boom lengths onto the clew and boom cutout so that you always know the correct length according to your body/boom height. 
 

SET&GO VARIO-TOP
Instead of leaving you with the time-consuming try and error procedure to find the correct setting we have installed markings on the webbing immediately showing the correct setting. 
 

iROCKET 2.0
Every batten in a sail requires a different tension. That's why as the only brand we calibrate every single batten at the factory to the correct individual tension using a torque wrench. Since the screws are locked with screw glue you never have to touch them. Just rest asured to always have prefect batten tensions. 
Our motto is clear: light is right but only if it doesn't go to costs of durability. 
Our hardware products (booms, masts and extensions) are proven to be the lightest in the industry.
With our sails though we are not the lightest on the market (with the exception of the Super Hero M.Plus). The major reason for this is that we are using (much) thicker XPly laminates than some other brands. 
The factors of puncture resistance, UV weathering resistance and stretch evidently depend ONLY on the thickness of the film used. 
Puncture resistance and stretch have a linear relation to the thickness of the film. Means twice the thickness results in twice the strength against punctures with half the stretch. 
Even more critical is UV resistance since here the relation to the thickness is overproportional. Means half the thickness reduces the UV-longevity by nearly 70%!
Some brands use XPly laminates which are 2/3rd thinner than ours in the upper sail area. Yes in the top you have less puncture issues and you can even get away with the increased strech. Unfortunately though the UV-exposure is the same all over the entire sail. 
That's one of the reasons why the majority of Windsurf centres around the globe trust in DUOTONE products.
Eliminating stretch and loss of tension. If it's good enough for safety belts, it's good enough for windsurfers! We are the only manufacturer to use only polyester webbing for the (vario) top and the tack roller. This advantage of this compared to conventional polypropylene is the negligible amount of stretch. As a result even brand new sails will retain full luff tension and will not need subsequent trimming.
On modern wave sails you want to have a certain elasticity. The easiest way to "inject" elasticity into a sail is by using Dacron for the luff panel.
Dacron has 2 disadvantages though:
Dacron is a rather soft woven fabric. Therefore it has a lot of give but similar to your t-shirt it wears out over time. Means your sail is permanently getting fuller in the luff panel. Especially under permanent downhaul tension (e.g. in surf centres) Dacron ages very fast. 

The Dacron material improves the elasticity but due to the soft Dacron material it's kind of a spongy softness. On the water such sails often have the tendency to become unbalanced on the wave and less precise during jumping. 
Therefore Kai designs his wave sails with non-stretchy XPly luff panels. Instead he tries to implement elasticity into the sail through other design features. Starting with 2022 all no-cam sails feature a mast sleeve made out of one single piece (ONE PIECE SLEEVE) instead of the common two piece construction. Besides saving weight this eliminates the hard spot at the leading edge caused by the overlapping + reinforcement and the seam to connect the two pieces. This way the whole sleeve becomes an integral part of the mast flex/twist. We call this PRECISE ELASTICITY.
Sustainability is the most important and pressing challenge of todays mankind to secure a livable mother earth for future generations to come!
Over the last 50 years Windsurfing has developed into a super high tech sport. But let's face it despite what others might tell you with the exception of aluminium booms and extensions Windsurfing products are a "mixture of petrol-based plastic trash". And most times up to 100% of this plastic trash are non-recycled (means "freshly produced") plastics. 
At least as of today there are no eco-friendly substitutes existing offering the minimum requirements necessary to design modern Windsurfing products. Or why do you think no one wants to sail with wooden booms, aluminium masts or stretchy sails made of woven fabrics anymore?
There is only one sustainable way out of this dilemma:
MAKING LONGER LASTING PRODUCTS (LONGEVITY = SUSTAINABILITY)
A high performance product that lasts longer and best case can even be put into additional use on the second hand market is the best and only way to conserve the resources of our earth.
Of course light components have a massive impact on the performance and handling of your rig. That's why light weight is always on our briefing list when designing and engineering new products. And DUOTONE products are among or in many cases are the lightest on the market.
But durability and longevity were and will ALWAYS be on top of our priority list. Our industry leading warranty extensions bear witness to this philosophy:
- 2 year unconditional warranty on almost every hardware product (masts, booms and extensions+bases).
- 5 year warranty on 80% of our sails.
On sails we cannot emphasize enough that especially reducing the thickness of the monofilm and the XPly laminate has a radical influence on the longevity/sustainability. Reducing the film thickness by 50% reduces the UV-stability by 70%. Just to shortterm impress magazine testers or customers some brands use up to 70% thinner laminates/films than we do. This is not our understanding of sustainability.
DOING MORE
However, since we are fully aware of the importance of sustainability, we cannot simply stop here.
>> Only we have stopped using any plastic for packaging our sails. This saves approx. 5 sqm of plastic film and foam per sail.
>> Only our aluminium products (booms and extensions+bases) are manufactured in a CO2 neutral production facility.
>> Only our aluminium products (booms and extensions+bases) are produced in Germany using 100% European raw materials in order to keep shipping distances (to our manufacture and then to our central warehouse) at a minimum.
>> Only our sail bags are made out of 100% recycled plastic.
>> Only we compensate all carbon emissions caused by our sails during manufacture and transport by supporting a hydropower carbon offset project in Sri Lanka, the country where our sails are produced.
WE DO LISTEN - BECOME PART OF THE DUOTONE DEVELOPMENT
DO YOU HAVE ANY INPUT OR IDEAS ON HOW TO IMPROVE OUR PRODUCTS?
SHARE YOUR THOUGHTS WITH US!
We strive to create products that are superior in performance and function to anything else on the market. Therefore, we are not just interested in the opinion and experience of professional riders, but listen to ALL windsurfers out there. Because we know we can learn from everyone, we want to collect the opinions of windsurfers worldwide.
This project runs throughout the whole year. Every year on January 15th, the best ideas will be rewarded and might actually be implemented into future products.
So, you have got an idea? Contact us >HERE<  and take your chance to make a difference. (Please use "R&D input for DTW" as a subject line)
REWARDS
1st - One sail (free of choice)
2nd - One Silver Boom (free of choice)
3rd -  One Power.XT 2.0 (free of choice)
Any comments or questions? Here you'll find first hand R&D / rider Information.
The more info you provide, the more specific the advice/help will be. Please let us know:
Your skill level

Your body weight and size

Mast(s) you plan on using with the sail

Board(s) you are using

Conditions/spots you are sailing at
Please note: To help as many people as possible follow the thread, the forum language is English only.